There are numerous excellent cocktail bars in London so, whether you are looking for somewhere to stop off for a pre-party cocktail or wanting the perfect spot to hideaway in the evening, there will be somewhere ideal for you. These sell the classic cocktails, but also offer new and unexpected taste sensations. Here are just a few of our favourite cocktail bars in London.
Oriole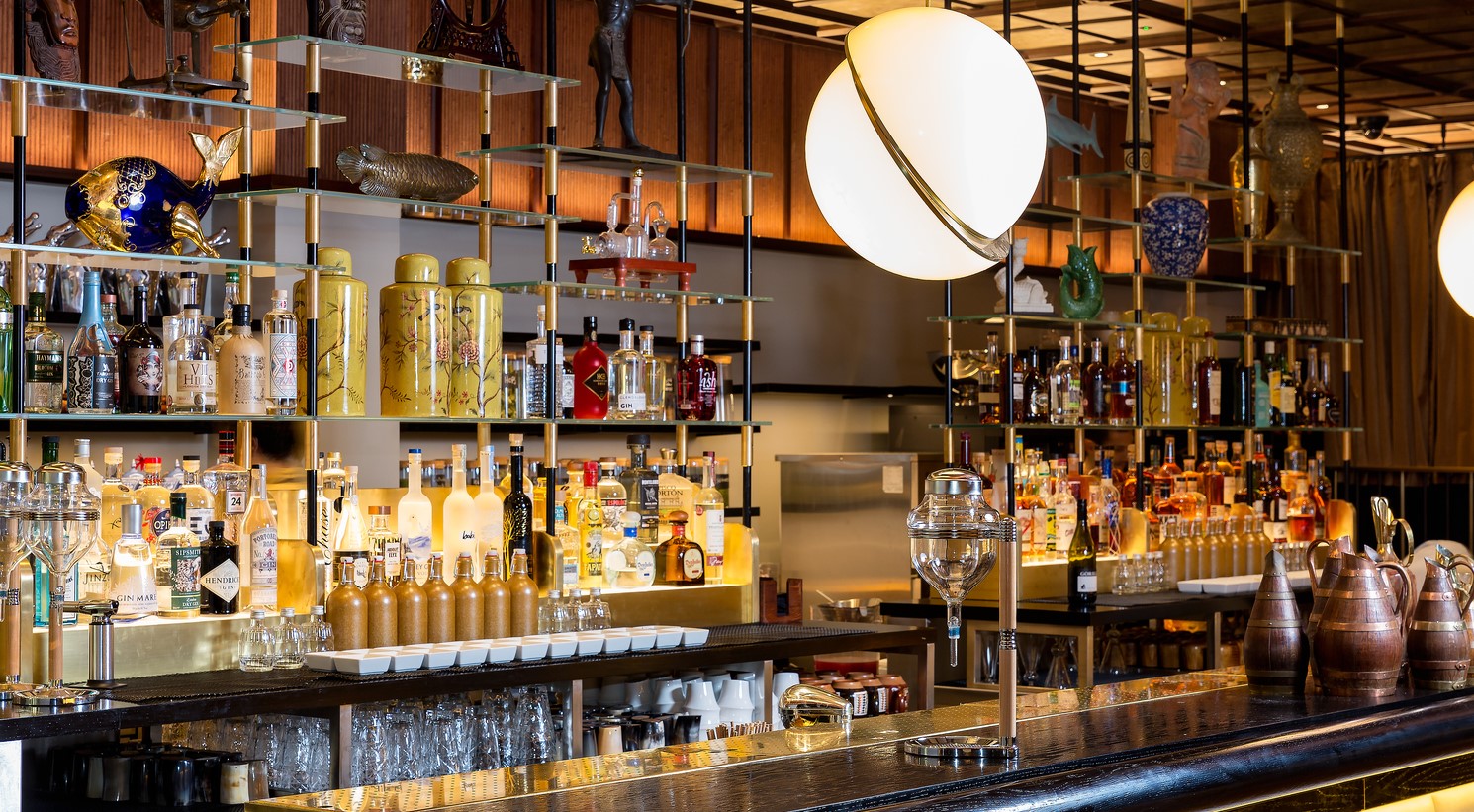 Oriole East Poultry Avenue EC1A 9LH Oriole, formerly the Cock Tavern, is in the heart of the city in London's Smithfields Market., close to Farringdon underground station.
It has described itself as "an underground cabinet of curiosities" and was launched by Edmund Weil and Rosie Stimpson, founders of legendary Nightjar bar. Oriole, named after the exotic bird native to Africa, Europe, Asia and Australia promises cocktails linked to these regions, depending on which cocktail menu you choose to drink from.
Oriole is a larger venue than Nightjar, with a seated capacity of 120, and 180 standing.
It offers customised drinks as well as a central stage, which plays host every night of the week to some great live music and bands, particularly jazz and swing, which fits in with the aesthetic and feel of the bar which takes you back to the romance and mystery of the 1920s-1940s.
An evening menu of sharing plates to go with their amazing cocktails is available each evening between 18:00 and 20:00 Live music begins at 21:00 and is free on Sunday, Monday and Tuesday, with a GPB5 charge on Wednesday and Thursday and GPB8 on Friday and Saturday which is paid to the live performers Oriole, which operates an over-21 policy, opens every day at 18:00, closing at 02:00 except on Monday when it closes at 23:00
Nightjar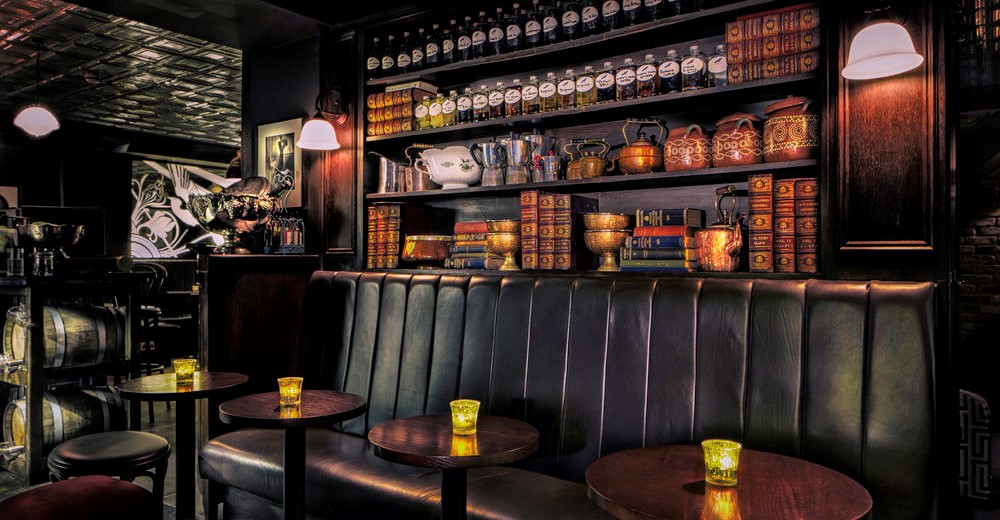 Nightjar, at 129 City Road, Shoreditch EC1V 1JB is a place for discerning drinkers to meet and relax. Near to Old Street underground station, it is an antidote to flashy West End bars and nightclubs.
Nightjar has some spectacular cocktails, great service and a vibrant live music programme. It is similar to Oriole in that it channels a 1920's vibe, with candlelit tables, glorious tin cup cocktails as a nod to the Prohibition era and crooning jazz and swing bands as the soundtrack to your evening.
Mixologists at Nightjar have created some amazing cocktails with surprising ingredients including sencha tea, seaweed and buffalo mozzarella that taste remarkably good.
One experimental cocktail worth a try is the English Royal Punch made with Hendrick's gin, Hennessy VS cognac, Pusser's Gunpowder rum, Korekima spice infusion, apple and rhubarb juice, earl grey tea, Hedgerow & Port jelly, Soave white wine, Hiver Honey IPA, and tonic water—served on the rocks.
The Nightjar runs on table service only, with a no standing policy or seating at the bar. Their capacity is 90. Every customer has to have a seat to be served and food and drinks must be ordered from your table. The last bookable table at 21:30. After this time, available tables are allocated on a first come first served basis.
Live music is free on a Monday and Tuesday, with a GBP5 charge applied on Wednesday, Thursday and Sunday. On Friday and Saturday, a GBP8 charge is applied with an addition GBP4 for those staying for the late set.
These charges are paid to the live performers. Nightjar is open every night of the week from 18:00, closing at 01:00 on Sunday through to Wednesday; closing at 02:00 on Thursday and 03:00 on Friday and Saturday.
Cahoots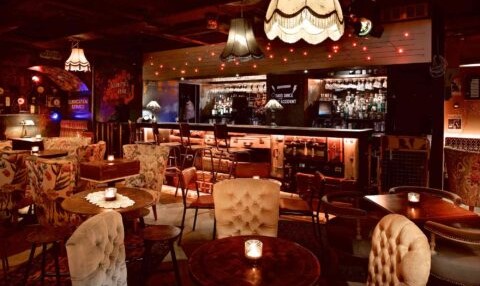 Based in the centre of London in trendy Carnaby Street, nearest underground Oxford Circus, Cahoots is an underground-themed bar set in 1946. The bar is in fact underground and was in the 1940s an air raid shelter for those living in the streets of Soho above.
Cahoots pays homage to Londoners living through the Blitz in the 1940s when liquor was handed round and singalongs took place to raise morale. The bar looks similar to a Bakerloo train carriage of the time and includes a wartime radio and inspirational posters.
In honour of the resourcefulness of wartime Londoners, drinks at Cahoots are served in tin cans, milk bottles, and whatever else will hold the cocktails. One cocktail is named after the force's sweetheart at the time, Vera Lynn, which is made with gin, elderflower and ginger wine.
Every Saturday there is a party at Cahoots, where they serve up a 'Squiffy Picnic', which offers neat little sandwiches, sausage rolls, and other awfully British treats alongside your cocktails. You also receive a copy of their in-house paper, The Kingly Court Herald.
Cahoots has a range of visiting musicians playing swinging tunes that get people up and dancing. Popular bands include The Hotsie Totsies, The Roustabouts, and Lois 'Legs' Laurelle. They'll have you up and grooving to some swinging tunes in no time, so you may want to bring your dancing shoes.
Cahoots can be found at Kingly Court, Carnaby, W1B 5PG. It is open from 17:00 to 01:00 on Monday, Tuesday and Wednesday; 16:00 to 02:00 on Thursday, 16:00 to 03:00 on Friday; 13:00 to 03:00 on Saturday and 15:00 to 00:00 on Sunday. Entry is free, but you do need to book in advance to gain entry.
Nine Lives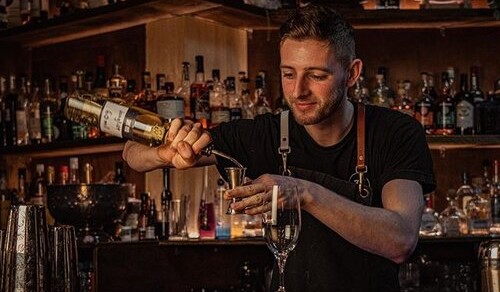 Nine Lives, at 8 Holyrood Street SE1 2EL Bermondsey is in an old Victorian basement that has a cosy vibe, with décor described as 'tropicalifornication' and even has a shuffleboard game.
Close to London Bridge station, the aim of Nine Lives is to offer great tasting drinks in a beautiful environment all made in an ethical and eco-friendly way. Nine Lives is run by the team behind Sweet&Chilli, the cocktail gurus. Try their Tropicalifornication, a cocktail of Ciroc pineapple, Hennessy, almond, Red Bull Tropical, Orange and Bitters.
Also try the Pink Panther a cocktail with Belvedere Vodka, white grapefruit, apple, lemon, watermelon shrub, spiced ginger and a mix of cucumber and watermelon soda. Sustainability is a core principle at Nine Lives looks including all the products they use, the recycling of waste and the sourcing of equipment & furniture from vintage and second-hand sources.
Food waste is sent to the venue's compost system, where it is broken down and then used to nourish the venue's herb and vegetable garden. Nine Lives are as obsessed with music as they are their drinks.
The sound system was repurposed rig from London's legendary club, Cable and has the perfect rich, warm tone for after-dark drinking & dancing. Every Saturday there is a party with DJs from some of London's hottest labels for sounds that are entirely unique.
Closed on Sunday and Monday, Nine Lives is open from 17:00 to 23:00 on Tuesday and Wednesday; 17:00 to 00:00 on Thursday; 17:00 to 01:00 on Friday and 18:00 to 01:00 on Saturday. Pizza-oven baked pizzas are available, including non-cheese options for vegans.
Heads & Tails, West Hampstead
At 175 West End Lane NW6 2LH in West Hampstead, Heads & Tails covers two storeys, for two unique bars. The bar upstairs ("Heads") opens out to a courtyard garden, with turquoise velvet seating and exposed lightbulbs illuminating hanging baskets.
The wine and cocktail list has been superbly put together and presented. Downstairs, Tails is a basement bar with a darker side, a heady drinks menu to match, and crowd-pleasing playlists. Heads & Tails operates an over-21 policy.
Heads is a pastel-coloured, bright and breezy space, offering a cocktail menu of crafted gin and vodka twists, and drinks such as Floradora, a cocktail of Beefeater Gin, raspberry, fresh lime and ginger ale or try the Smoke on the Water with Altos Plata Tequila, Quiquiriqui Mezcal, homemade watermelon syrup, fresh lime.
Tails has muted tones, leather chairs, exposed brickwork and low lighting. The cocktail list at Tails focuses on whisky and rum, though there is a good wine list and an offer of five bottles for the price of four on sparkling wines and Champagne.
Try Diamond in the Rough cocktail with Wild Turkey Rye, Smith and Cross, Ardbeg 10-year-old, Bold London Spirit, Blood orange sherbet or Thunder which mixes Havana Especial Rum, Lillet Rouge, Velvet Falernum, Akavit and Absinthe drops Heads & Tails is open from 16:00 to 01:00 on Monday and Tuesday; 16:00 to 02:00 on Wednesday and Thursday; 16:00 to 03:00 on Friday; 123:00 to 03:00 on Saturday and 12:00 to 02:00 on Sunday.